Primo trailer per The Circle, il film che ha per protagonisti Tom Hanks ed Emma Watson sarà in sala il 27 aprile. The Circle è ispirato dal bestseller di Dave Eggers Il Cerchio. Diretto da James Ponsoldt, completano il cast John Boyega e Karen Gillan.
The Circle racconta la storia di Mae, una giovane esperta di nuove tecnologie che inizia a lavorare per The Circle, una compagnia internet molto potente. Mia, che si è appena laureata, è arrivata a lavorare in The Circle grazie a una segnalazione della sua amica Annie (la scozzese Karen Gillan). Assunta come esperta di costumer experience, ben presto Mia viene promossa e scala i ranghi dell'azienda, una delle più grandi in fatto di tecnologia e social media nel mondo.
Il fondatore della società, Eamon Bailey (Tom Hanks), invita Mia e i suoi altri lavoratori a rinunciare alla propria privacy e a vivere in un regime di totale e assoluta trasparenza, mettendo a repentaglio la propria sicurezza e libertà. Ben presto Mia capirà che le sue decisioni e quelli degli altri lavoratori riguardano tutta l'umanità.
The Circle sarà nei cinema USA il 28 aprile, diretto da James Ponsoldt, regista di The Spectacular Now con Miles Teller, The End of the Tour (entrambi disponibili su Netflix) e Smashed. La sceneggiatura è stata firmata dallo stesso Ponsoldt, ma è basata sul bestseller di Eggers Il Cerchio, edito in Italia da Mondadori. L'autore americano ha collaborato alla sceneggiatura.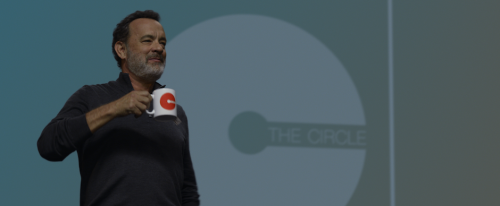 Completano il cast di The Circle, Ellar Coltrane, Patton Oswalt e Bill Paxton. Tom Hanks è anche uno dei produttori del film insieme allo stesso Ponsoldt, Anthony Bregman e Gary Goetzman. Danny Elfman firma la colonna sonora, sue le musiche di moltissimi film di Tim Burton. Il film è stato girato in California e anche a Pasadena, sede dell'università scientifica Caltech e set del capolavoro Il Laureato.
Ecco il trailer: